Tammy Kingan
Founder, Pack Leader, and Dog Lover
Growing up in a household where dogs were family members and not just beloved pets, its no wonder her first word was the dog's name! Wanting to be surrounded by the unconditional love and excitement of dogs, she decided to start working with them while attending school at Eckerd College in St. Pete. She spent a significant amount of time volunteering with Southeastern Guide Dogs and learned a lot about the canine personality. Since then, she worked and trained many dogs in Boston, Massachusetts- most recently with Paws in the Ville. In 2016, after a long Boston winter, she decided to move back to the sunny warmth of Florida, specifically St. Pete. Tammy started Tails and Trails because she needed the confidence that her dog was in the best hands and wanted other dog owners to have that peace of mind. She has over 15 years of experience and a passion for all pooches!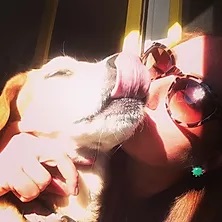 Lisa Peddicord
Pack Leader
Lisa met Tammy while attending Eckerd college, here in sunny St. Petersburg, Florida. She graduated in 2005 with a B.S. in Biology, and soon acquired her first job with a local animal shelter. This is also where she adopted her BFF Mouse, a sassy beagle-mix! A year later she began working as a veterinary technician, and things took off from there.  She attended St. Petersburg College and received her A.S. In Veterinary Technology in 2012, passing the national exam to become a Certified Veterinay Technician (CVT). With a decade of animal handling under her belt, she is presently an emergency veterinary nurse at BluePearl, the largest veterinary ER and Specialty practice on the Gulf Coast. Lisa has been with Tails and Trails since March 2017 and absolutely loves it! She is honored and thrilled to be caring for your furry friend!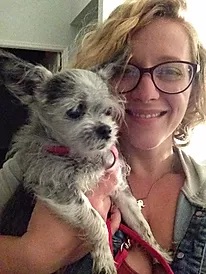 Grace Dissell
Pack Leader
Grace is a long time dog lover who has eventually made it her career as well as her passion. Being raised in a household that always had both kitty and K-9 family members, giving them the care and attention they need has become second nature. Now she has three fur babies of her own: Menchi the sweet as pie pit mix, 'too hot to trot' Teagan, and Gus Baby the Basset hound. It's a fur filled house that she wouldn't have any other way! Since 2013 Grace has been working in small animal medicine, working her way up from the front desk to veterinary technician at Connechusett Animal Hospital in Clearwater. It's a small practice with a strong family mentality for the staff as well as the clients and their pets. She is currently working on her A.S. in Veterinary Technology with SPC. Grace came upon Tails and Trails by lucky happenstance, and has had the privilege of working with Tammy to give care and love to pets in St. Pete ever since.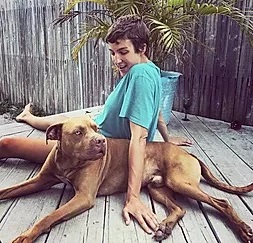 Alyssa Pusecker
Pack Leader
Growing up in Ohio and moving around the country for a while post-college, Alyssa landed in St.Pete a couple of years ago and joined the Tails and Trails team! She graduated from Ohio University in 2011 and was the Foster Coordinator for the Central Oklahoma Humane Society for 2 and a half years. She currently fosters dogs for the Humane Society of Pinellas and is constantly trying to resist adding another permanent member to her pack at home! She has a soft spot for Pit mixes and loves all of our furry friends, big and small.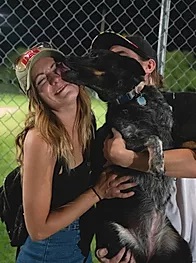 Maggie Whitaker
Pack Leader
Maggie moved to St. Pete from Salt Lake City, Utah in 2018 to be closer to her family. She was born and raised in Maryland, but moved out West where she worked as a Pet Care Specialist for a few years. Maggie was born into the business! Her mom has her own pet sitting company in MD and she has been working with animals all her life. She is certified in pet CPR/first aid, and has lots of experience in the animal care world. She enjoys travel, music, movies, and hanging out with her adorable dog Daisy & two cats!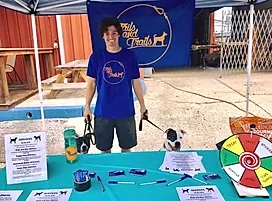 Skylre Bothwell
Pack Leader
Hailing from Chicago, Illinois, Skylre moved here to get some more sunshine in his life and we couldn't be happier to have him on the TaT Team! Skylre is one of those people who can inherently speak to dogs, and we affectionately call him our "Ginger Cesar Millan." He is most efficient at helping dog owners communicate more effectively with their pets and has many success stories from working with socially anxious pups. He loves the Cubs, Da Bears, and letting loose at a fun concert. He can be seen regularly in downtown St. Pete with hands full of leashes and a big smile on his face.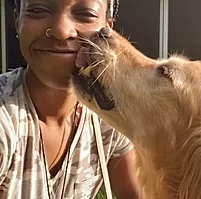 Monique Johnson
Pack Leader
Monique has a passion for puppers! Originally from Kansas City, Monique fell in love with St. Pete over six years ago and hasn't looked back. Her capacity for caring is unmatched and she loves educating herself about all things canine. In 2017 she adopted her sweet boy, Odin, and continues to support foster programs. He is her BFF and favorite cuddle buddy! Because of her deep adoration for dogs and their humans, she has become a "part of the family" for many TaT clients and we love that! She loves Tarot, spiritual healing, meditation, long walks with pups, and curling up with a good book.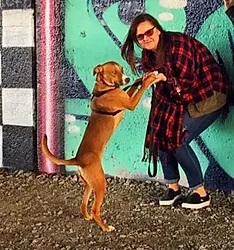 Isobel Spicer
Pack Leader
It is rare to see Isobel without her furry sidekick, Moe. They've gone on tons of adventures together and made lots of new friends with TaT pups! Originally from Clearwater, FL, Isobel moved to Georgia for a few years before returning to St. Pete. She ran her own successful Dogwalking and hiking company where she would lead packs of pups on long hikes through the beautiful Appalachian mountains. Isobel is one of those amazing people who dogs innately trust and frequently brings shy dogs out of their shell. She loves cuddling on the couch with her canine pals and taking long walks in the Vinoy Park.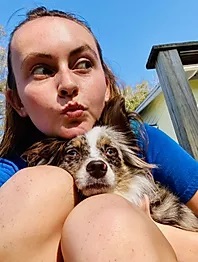 Courtney Coyle
Pack Leader
Courtney is an Eckerd College Environmental Studies grad with a huge spot in her heart for all animals. She hails from Washington, DC and grew up with dogs as additional family members. At restaurants, she is that girl who will ditch her friends to become besties with the pup outside on the patio. A longtime volunteer at Washington Animal Rescue League before moving to St. Pete, she learned best practices for working and communicating with dogs. Courtney facilitated adoptions and completed their extensive training program, utilizing this knowledge daily with her TaT pups. In college, she fostered an 85-pound pittie, and has since opened her doors to our boarding clients. Courtney cares a LOT about dogs which is reflected in the way she cares for her Pack. She loves being outdoors, trying new recipes, practicing sustainability, and dancing to great tunes!
Contact Us
Call, text or e-mail us at any time with inquiries, questions or concerns!
Email:
Call or text:
(727) 755-7994